Hello hearth forum peeps. I have lurked around on and off for some time, gleaning some of the great info here. I am finally going to be able to get a stove going in the house, and just wanted to run my install by you all for a critique.
A buddy is moving out of his current place and selling me his Sierra 8000 TEC that he has been burning in a few seasons, for a friendly price. I have been gathering wood for a couple of years, so I have a few dried cords ready to go.
My house is ranch on a basement, with masonry chimney on the NNE facing wall. There is a fireplace both in the basement, and on the ground floor, each having a flue in the chimney. They basement flue is smaller, maybe 6x8, whereas the ground floor living room is terra cotta lined 13x13. This living room is in the corner of the "L" shaped house.
Here is a shot of the living room fireplace: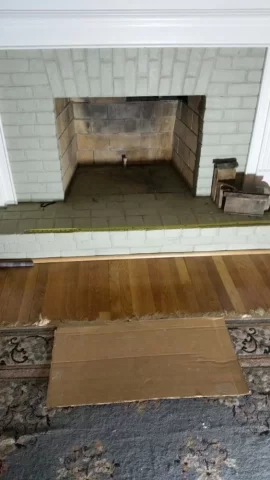 The stove is too big to fit on the existing hearth, so my intention is to set it in the room, on a hearth pad I will build. The piece of cardboard in the photo represents the footprint of the stove, and is cut to that size (32x16.5) The stove has both a front and right hand side loading door.
The manual calls for 0.893 R in the pad, which I intend to build as a plywood base, 3 layers of Hardie board, and a slate tile top. Thinking it will end up 48"x60" to cover all the clearances.
The flue is about 14 feet from the top of the chimney down to the top of the fireplace opening. I intend to line this with an insulated stainless steel flex liner.
Now is where some questions come in.

Standard seems to be to bring the liner down to a T, and then snout to your stove. My stove connector is going to sit about 48" from where the T would be. I am thinking that I will just angle the snout upward from the stove bit. I think I read somewhere that you want to get 1/4" of rise for every 12" of run, in the snout, but would like confirmation on this. I can actually get a bit more than that depending on how low I hang the T. Will having the snout angled affect how the snout connects to the T? Is it better to get a 48" snout, or just go with the standard, and extend it with stovepipe? Lastly, would it be better to just run flex, directly to the stove. Doing so would mean less horizontal pipe, but I think there are reasons to not go this route.
Thanks for looking. Feel free to ask any questions. I can provide some more pics if needed, or answer questions on measurements.