Hi all,
I'm fairly new to wood burning and gotten a lot of good info off this site for my new home, so thanks. I am stuck with a fairly odd but workable situation, and would like to improve it as much as I can. To start I could use advice on a couple things:
First is to I.D. my older PE Super Series stove. Can't find an ID tag anywhere...guess I haven't tilted it over and looked at the bottom yet. Dims fit a modern Super 27 LE more or less, air control is a slider on the flat front lip, baffle has the blanket on top, not inside. I'd like to buy some new parts, and just generally want to know what I'm working with. Here's a photo: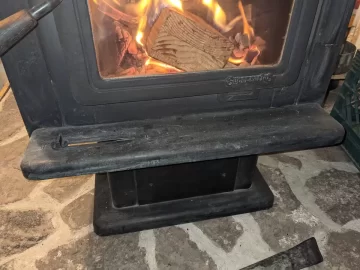 Second is improving draft. Startup is slow, and smoky when I open the door, but I can just barely live with it. Does better once up to heat but still not ideal. Here's my situation...you'll probably laugh, but this is what I have for now. Just looking for ways to improve if possible.
- 400sf renovated 1960s trailer home, pretty tight, well insulated. Yes this stove is wildly over-sized, but it gets cold here, I don't mind being toasty, and I burn at the low end of the spectrum. When I have the money I'll switch to a much smaller stove, 30,000 btu or what not, but not now. This stove is new to this trailer.
- Chimney is very short. Right now I'm 8' from bottom fire box to top chimney, and top chimney is only 2' above roof. Pipe is all 6"...double wall to a short bit of single wall adapter to Class A through the ceiling/roof. As an experiment I added 2' of cheap single wall to the top of the chimney...sadly no noticeable draft improvement. I guess next is buy another stick of Class A and a support brace...but how much? Shoot for 12' bottom fire box to top chimney? I don't mind looking like a submarine with extended periscope. Should I be confident a 4' stick of class A will improve draft where a 2' stick of single wall didn't?
- No fresh air intake though I know I should/am supposed to get one. Probably drop through the floor into crawlspace and out the skirting 4' away. Thing is, with nearby window and door open, draft doesn't make any noticeable improvements...so I'm skeptical a fresh air intake will. Thoughts?
- Baffle is warped in front and sags down an 3/4" at center. Otherwise in good/solid shape, as are all the other removable pieces inside. Any way this baffle is causing draft issues? I could replace it but honestly would rather not spend the money if all it gets me is efficiency...heat is aplenty as it is.
I'm also curious if I could expect better draft when I eventually buy a new, smaller stove (True North TN10, or maybe Tiny Wood Stove's Dwarf 5Kw, etc.). I don't know if draft dynamics change with stove model, but if they do maybe I'll try and make it happen sooner than later.
Thanks!