Hi there, looking for advice. Recently purchased home with a Jotul F3 CB In poor condition. New to rebuilding wood stoves so any help would be appreciated. Upon inspection back burn plate was cracked and upper air distributor/baffle plate in very poor condition. Got replacement for baffle and rear burn plate. first of all, dry fitting the baffle plate did not even come close. Also should have paid more attention taking it apart.
Do the inner burn plates go back in dry or is furnace cement used on the interior plates?
What base slot does the rear burn plate go in? The slot that the side burn plates go in or sits on the top of the base? If on the base, goes to the bottom of the tang of side plates, all tight but the baffle doesn't align to the sideplate bolts. in the slot it everything is loose, falls lower and exposes outer shell. Here it is shown in the slot.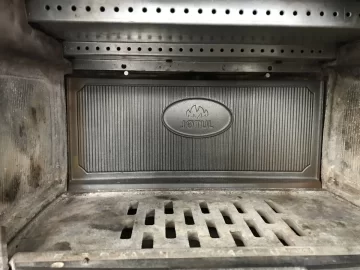 Contacted supplier of baffle, and this is a OEM part. They are looking into this further. Any support for this issue is helpful.