I have an old large masonry fireplace (Front opening dimensions 50" Wide X 36" Tall (slightly shorter at the back of the fireplace) X 25" Deep). I'm in the process of doing a bunch of insulation and air-sealing to make the house more energy-efficient and I am a bit at a loss as to the best way to handle such a large fireplace while preserving as much character as possible.
My main goals:
Ability to have fires in this room without worrying about huge amounts of conditioned air running out of the house
Keeping the existing tile & mantel
Large fire "viewing area" for ambience
I
am
looking for more heat output efficiency than a standard open fireplace, but this fireplace is
not
meant to be a significant source of heat for the home. (I am converting a smaller fireplace in the home to a Blaze King Ashford 25 for that purpose)
I have some different options and I'd love input. Willing to invest a good amount of money for this project so budget is not the primary consideration.
1) Attempt to make current fireplace more "efficient"
(although I'm well-aware that this efficiency won't get anywhere close to an insert or stove)
I would install some combination of:
air-sealed pyro ceramic doors with a bottom damper (from Stoll)
outdoor combustion air kit
Would this accomplish anything? My hope would be the combination of the doors and outdoor air would allow me to reduce the amount of conditioned air sucked up the chimney, but my hunch is from reading through other posts on this forum that this might be a doomed avenue.
2) Install an Insert
Is there any option for an "interior install" that wouldn't damage/alter the tile? Are there any inserts large enough such that there wouldn't be a large gap to fill around the insert? (Or is there a more attractive option to fill this gap than the plain black steel border?) The fireplace is so large I am having a hard time envisioning how the smaller inserts would look.
3) Install a stove in the fireplace
I don't see this option pursued that often - are there any important considerations to keep in mind? My hope here would be to get as large of a stove as possible with a large window to maintain ambience.
Thanks in advance for all input!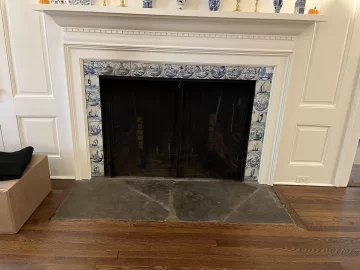 Last edited by a moderator: