For the past 15 years or so that we have lived at our house I'd generally have to touch a piece of wood four to six times in order to get it from the woods and into the house. My normal routine was to cut the wood into 16" lengths in the woods, load the wood onto my tractor, dump the big stuff on the ground and stack the smaller stuff. I'd then come back later and split the stuff that was too big to stack. As wood was needed in the house I'd bring it in via wheel barrow or tractor loader. We have a walk out basement so I can drive the tractor right up to the basement door. IMHO - I was touching each piece of wood way too much.
This past spring we decided it was time for a new tractor after I almost flipped the old one twice putting out round bales. Part of the criteria of getting the new tractor was a machine that was capable of lifting at least
2,000lbs at the pivot pins
. From my calculations a tote of wood weighed anywhere between 1,000 - 1,500lbs depending on the species of wood.
A few months ago I made a couple trips to a local mulch company and bought twelve totes. The price of the 270 gallon and 330 gallon totes were the same so I opted for the 330 gallon totes since I could get more wood into them. By my calculations each tote holds around 1/3 a cord of wood. I'll leave the totes open up top and then in August or so I'll put shrink wrap on six or seven totes. We only burn a few cords of wood a year.
For the few days it hasn't rained and I've been able to cut, the new system has definitely cut down on the amount of times I'm touch a piece of wood. My new routine is to grab an empty tote with the tractor and take it to the woods with me along with my splitter, cut the wood into 16" lengths, split the big stuff and put it directly into the tote. I do have be cognizant of not having a tote full or splits or rounds though. I try to mix rounds and splits as I'm loading the tote. The one major down side I do see to this setup is that I cannot easily inter mix species of wood on each tote. I like to burn different species of wood during different times of the day.
Our house has a walk out basement. Now I can just take the tote with the tractor and drop it into the basement onto some moving dollies so I can move it around the basement.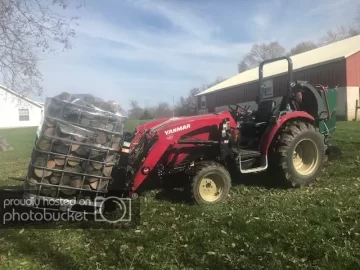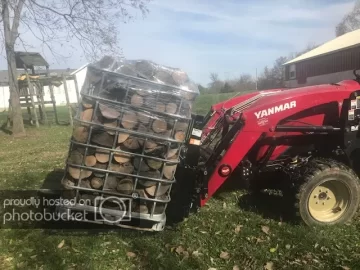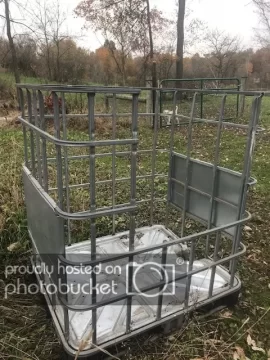 Last edited: