Hello!
Before I start my post, let me say that I have been a long time lurker on the site and want to thank everyone for their years of collective knowledge and insights. I could not have made my choices without this site.
I just put a down payment on the
Regency Cascades I1500
.
Installation occurs in 3-4 weeks. It is the standard model with a 5.5 inch liner, black Classic door, and variable speed blower. It will cost us just shy of
$6500
installed with the included NJ Sales tax.
With the US Biomass tax incentive, I'll get
$1690
back next year. That makes me happy.
This has been a home improvement project that has been four years in the making and I want to recount my basic to do list with the associated pricing so that I can help the next lurker make their decision.
After we purchased our 1920s home in 2014, we never used the fireplace. The previous homeowner had allowed the hearth to decay to the point that it was "perceived" unsafe to walk on. Fixing up the fireplace was something we said, "we will get to eventually."
In 2018, during Thanksgiving dinner, we noticed a robust breeze coming down the chimney. We decided then, to look into fireplace inserts. We never considered a gas insert because we wanted a method that could supplement our heating without adding to the winter utility bill.
In 2019, we had the structure of our hearth redone. It cost us about
$750
for a handyman to remove the old tiles and concrete and redo the floor structure under the hearth.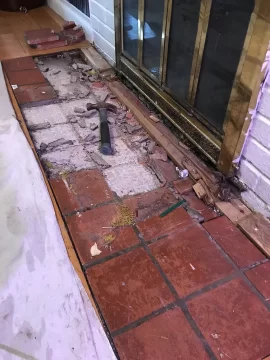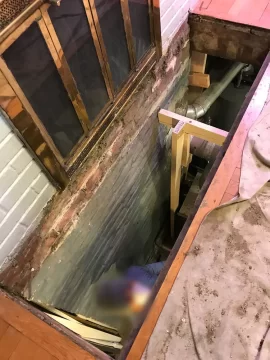 In July of 2020, we put a down payment on a Pacific Energy insert, but, we were told that our terra cotta flue was too small (six inches) for the required liner. We received a quote from a fireplace contractor of
$2500
to remove the tiles. That put us way over
$6000
budget. We had to back out of the sale.
In July of 2021, we zeroed in on the Regency Cascades models. They took a smaller flue, were eligible for the tax credit and were at the height of efficiency. If the specs are to be believed, it seems like Cascades I1500 will heat the 1000 square foot first floor and give us a little warmth on the second floor as well. I wanted the bigger model but, our fireplace was just too darn small.
To complete the hearth, we purchased a Quartzite stone remnant for
$500
and I purchased a few feet of mahogany to complete the edging.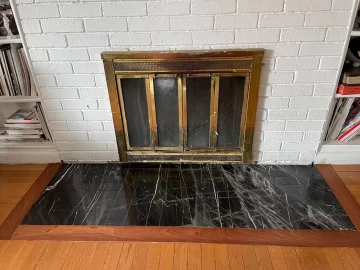 I did a little Photoshop sketch to visualize the final install. We
might
purchase marble ledger panels to finish the look.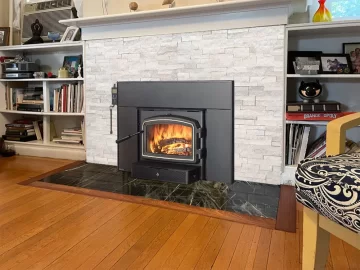 I am now on the hunt for wood. I ordered a half cord of seasoned wood from a local NJ supplier three weeks ago. To find out the status of my order, I had to call him today after my previous emails went unanswered. That type of delay does not fill me with confidence. Out of the entire fireplace to do list, the hunt for an agreed upon definition of
"seasoned wood"
from a reliable seller in New Jersey seems to be an utter crap shoot.
If anyone has any NJ firewood dealer recommendations, I am all ears.
This uncertainty has convinced me that we will buy kiln-dried wood this year for our new insert. I hope next year we can season our own.
I will update this thread after install and give an in-depth review of the I1500 this winter.
Thank you again to the Hearth.com community for all your help.