I've learned quite a bit from reading this site, so thanks for all the education. We purchased a house a few years ago with this Heaterlator fireplace. Have not used it (much) and the smoke stains are pretty much what we inherited. Apologies for the quality of the photo, did not take it with the goal of posting. Its not cleared and I've obscured some photos, etc. The smoke staining cleaned up well with scrubbing and TSP. Now onto business
I would like to put in a wood burning insert. A visit by a very competent chimney sweep identified the flue as a 12x12 terra cotta liner and we had him do an estimate for a new fireplace. I think now an insert is the way to go. Plentiful supply of wood on the property, with space to season and natural accumulation of oak, maple and unfortunately ash (from EAB) that will supply wood. Goal is supplemental heating with some fire viewing. We are not there full time, but spending more time there, including a couple of months in the dead of winter. We are in the Hudson Valley, NY State. It is an outside chimney, about 15 feet tall. The area behind the masonry vents is open, presumably with the idea that warm air will will vent through.
I've explored different inserts, but before I ask anything about those, I'm more interested in the nature of the install.
1) The firebox is in rough shape, but can an insert simply be place into the liner as is? It sits in a very substantial and solid stone and morter structure that juts outside the house. Is this liner
2) I'm assuming we will need to do something with the hearth projecting into the room. The brick is currently 12 inches from the front of the firebox. This will depend on the requirements of the insert.
3) We will have to cut a hole through the rectangular slot, but I would guess that a 6 inch stainless steel liner that is insulated would be appropriate?
Thanks so much in advance. I'm most interested if just adding an insert seems like a viable strategy, and how constraining the size of the current firebox should be. Clearly we won't touch the stone dimensions, but the sloping side wall limit the kind of insert. I will have the install done professionally, but would appreciate very much independent opinions about how to proceed.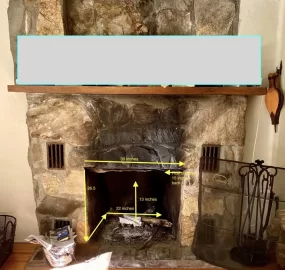 Last edited by a moderator: