Hey everyone- I've read a couple of similar posts about the issue, but I still seem to get different answers from the local chimney and fireplace companies in my town.
I purchased a home and currently have a Martin Industries prefab fireplace that vents up a wood framed typical prefab chimney. Like a lot of older prefabs, the manufacture is no longer in business. The chimney pipe was inspected and all checked out to be good. I understand that the whole prefab insert/chimney pipe is one unit and if you change anything to the prefab, it has to be approved or purchased from the original manufacturer to still fall under UL standards and warranty. (the current chimney pipe is a 12-13" outer pipe with a 8" inner pipe)
I want to install a small wood stove for my 950 Sqft home (was thinking the Jotul F3). Not as an insert into the fireplace, but as free standing on the brick hearth directly front of the fireplace. I spoke with three fireplace dealers and they all told me that they would install an insulated stainless steel liner down the chimney and have it back vent into a T pipe. I also spoke to a reputable chimney service company and they said that you cannot do this because of the prefab manufacturer does not rate it for anything except the original prefab unit.
Should I go with the liner option installed by the dealer? I figured that if anything were to go wrong (God forbid) then my insurance company would already have proof that it was installed by a professional.
Is this a good option? Or could is it a safety issue that would come back to bite me down the road. Just want to make it safe and stay warm! Any input is really appreciated, even if it's something entirely different..
Thank you!
(below- Looking down the chimney outer pipe, holding inner pipe)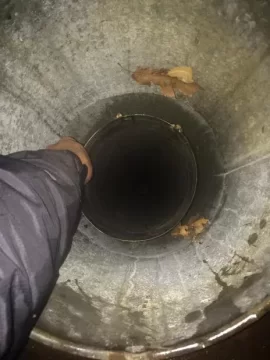 Last edited by a moderator: