Im one of the crazy variety that has decided to install a solid fuel heater into a moving vehicle. After a lot of reading and pondering I know there are many advantages to this (and many disadvantages) but it will be done. The question now is how to put together something safely....thats why i'm here!
I've looked up residential woodstove clearances and they are very large....like 18" for single wall pipe. On the other hand Marine solid fuel installations seem to be much tighter....granted the smaller btu output of stove probably plays some factor in this. But dickenson deck fittings for example have single wall pipe connected to a deck fitting with one inch clearance and I have seen dozens of installations some older than 10 years that havent had a single problem.
I will be installing a Fatsco Midget in my rig and hope to achieve around a 6 hour burntime with charcoal....enough to get me through the night. My space is quite small...approximately 600 cubic feet (15 x 7 x 6.5) I have sufficient ventilation and outside air for combustion. I will be using the stove in potentially very cold climates (up to -20) and calculated a need for around 10k btu at most which stove should provide.
My attention now is turned to installing all of this safely yet not having to cut an 18" hole in my roof!
My rig is all aluminum so the roof at least is non combustible. Here is a rough drawing of what I was thinking.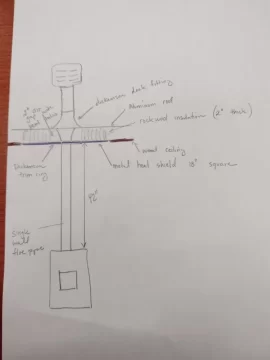 I have a number of questions other than does this sketch look like something safe enough?
1. Do I need an internal damper or will a barometric damper be fine? Stove is almost airtight, but not completely. Im trying to figure out how to turn things down to a simmer. Will barometric damper allow me to do this by reducing draft and pulling air into flue above pipe? Or should I skip barometric and get internal damper?
2. Will a 55" inch approximate flue length stay warm enough with single wall to avoid creosote? I will ocassionally burn wood but predominantly charcoal. Finding double wall class A pipe in 4" flue size isnt easy and none of it mates up with marine deck fitting. Single wall seems to work in marine application, but granted temps arent probably dropping to -20. I was wondering if using some kind of insulating wrap around flue pipe would work....like the kind used to wrap exhaust manifolds in cars?
3. Does pipe need to be fastened together in anyway. Ive heard people screw them together but not sure how this works with single wall pipe...
Last edited by a moderator: