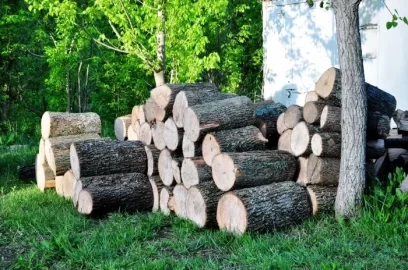 Sooooo, I answered an ad on Craig's list for free firewood. After 3 E-mails with no answer I figured I missed it. On the 4th day I get a call from a lady who says she has 11 trees in her back yard she had cut down but not removed! She said she had been too busy to answer right away.
I says "What kind of trees are they?" She says "Ash." I says "I'm on my way over to see them!"
I get there and her back yard is a tangled mass of white ash trees crisscrossed on top of each other. The largest is about 30" around and the smallest is about 10" around. The limbs have been cut off and left where they fell. A few of the trees have been cut into 8 to 10 foot lengths.
I fires up the MS 441 and commence to cuttin'! The only problems are: I'm just one guy and I don't even have a truck, just a Subaru Baja! And, she says I can only work between 11am and 3:30pm. And I can't get the Baja into the back yard because there is only about a 40" walkway between her house and the neighbor's house. But come hell or high water I'm getting it all!
The picture is after 2 days of cutting and hauling. I'm guessing, at best, it's about 20% of the wood. I'll post a picture of what's left of the mess in the yard after I finish cutting today.