I have had a plastic tank kicking around around for several years that a friend dropped off. It used to hold wood glue but has been rinsed out a few times including an acid/alkaline wash so is fine for garden watering. When I first built my house it was in a new development and it took ten years for an uphill house to be built. I switched to a deep artesian well before the septic tank went in on the other side of the street. Despite being on a hill, there is a layer of hardpan clay about 2 to 4 feet deep. My surface water well coincidentally sets in a low spot of the hardpan and the bottom is about 15 feet deep. For ten years I never ran out of water and normally the water level is 4 feet below ground level. The area around the well had grown in bit, but of late I have been clearing out the trees that have moved in to shade it.
I was going to build a platform to elevate the tank but my town is very aggressive at taxing structures so I decided to build it out of firewood. Its all beech that I slabbed with my log splitter so the pile is pretty solid. The tank is distorting when full but the price was right. I have a DC bilge pump hung offa PVC pipe that sits down in the well several feet. The pipe goes through an elbow that sits on edge of the well opening and then runs to the top of the tank. Bilge pumps are not rated for much pressure so my 500 GPH rated pump is probably putting out 50 GPH. One 50 watt panel will drive it at this low flow but I paralleled in a second panel to deal with sun angle. There is a submersible float switch hanging upside down in the top of the tank. When the tank fills up the float switch opens (opposite of a boat bilge) and the pump shuts down.
I normally water the garden with a soaker hose, unfortunately soaker hoses are rated for higher pressure. I left one 25 foot soaker hose running overnight and the tank only went down about 2 feet. The ground was not damp so I need more flow. There are soaker hoses made for rain barrels so I ordered one on Amazon. I was out working wood yesterday and hooked up a cheap lawn sprinkler. The sprays only reached about 5 feet from the sprinkler but its did soak things well. From about 8 to noon the tank did go down gradually. I shut down around 1 PM and the tank refilled by 4 PM.
The plan is to match the soaker hose to tank and see if I can just leave it running 24/7. On cloudy days there should be less demand for water. Worst case is a battery operated timer.
I did notice that with hot weather and extra water my strawberries are real happy. Considering there was plowable snow two weeks ago its nice to see the garden waking up.
Note this is proof of concept. I need to replace the temporary wiring with UV resistant outdoor wiring, make a mount for the panels and clean up the wiring runs.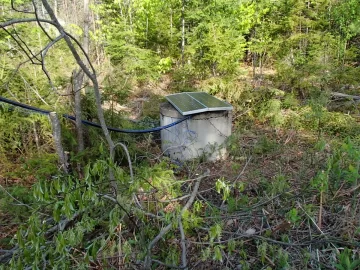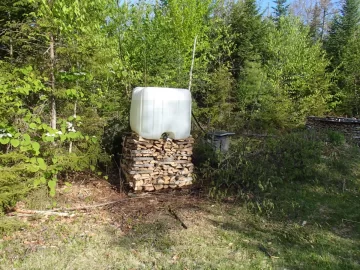 Last edited: