Hello! I posted on here before about my situation with a Vermont Castings Winterwarm fireplace box surrounded by masonry that had a Blaze King installed in it by the previous owner. I finally took the time yesterday to do some demolition and reveal the underlying structure of the fireplace. As you can see in the photo, the structure of the fireplace is all masonry. It's basically a large masonry chimney that has a winterwarm cabinet in it and an opening for the fireplace. Between the winterwarm box and masonry there is about 10 inches or so of air space that also accommodates a couple of liners that travel up from the basement boiler and fireplace. The blaze king is currently connected to an 8 inch insulated SS flex liner made by Homesaver and the chimney is about 35' tall measured from the fireplace. I am selling the blaze king because I know it is supposed to be installed in a masonry fireplace. I'm looking for a safe and reliable solution that can also put out a lot of heat for winter. I have a couple ideas below, please let me know what you think and feel free to share any ideas that you can think of.
1. Treating the structure as a non-combustible alcove:
- This would involve cutting out the winterwarm box in pieces and installing a free-standing stove in its place because it clearly states on the side of the box that a fire can not be .
- The Lopi Liberty has clear specifications in the manual about installation in a non-combustible alcove. The current structure would exceed those requirements, however the chimney max height in the manual is 33' and the chimney size required is 6". Would this be a problem? Are there any other stoves that would work better for this purpose?
2. Installing a rear vent stove on the hearth right in front of the opening:
- The hearth is deep enough that I could install a free-standing stove in front of the opening and still exceed 16" in front of the stove.
- My biggest question with this idea is: Could I keep the winterwarm box, paint the inside black for aesthetic reasons, and have the chimney pass through it? Is this legal and could I run into any insurance issues with this approach?
- The stove that I am leaning towards for this would be the Vermont Castings Encore or Defiant because of the rear-vent capability and 8" chimney diameter.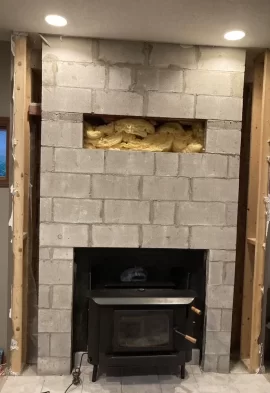 Please let me know what you think!