I am tearing out my pre fab in preparation for a new Zero Clearance. The existing Hearth pedestal was block covered in brick. I want to extend the pedestal to the right and left as well. I was hoping to be able to frame it out with wood and cover with veneer (face) slate, stone, or tile on top. Is this acceptable? Is there a tile or covering material that could reach an R value of 2.0 which the manual states?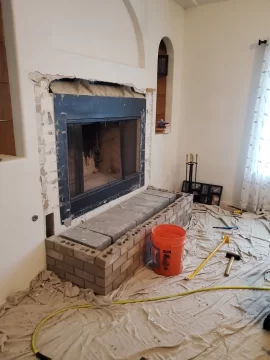 What I am trying to determine this very moment is if I should leave the block in place as is for now. I was starting to remove it thinking I'd just build a frame, then it hit me that may not be ok with what I want to do. I want to keep the height and depth, but am replacing the old brick with modern materials. What options do I have for the hearth extension?
Manual for the unit I purchased below. Page 40 for required clearances and R values.
chrome-extension://efaidnbmnnnibpcajpcglclefindmkaj/https://sbiweb.blob.core.windows.net/media/3911/45858a_2021-10-27.pdf