I am in the process of replacing my old fireplace with a new zero-clearance wood stove. I would like to use combustion air from inside the home, but I have had pretty bad downdrafting. It seems to work ok when I use outside combustion air, but I have read several articles on why this is bad.
Here is what I have going on:
1. Flame Monaco Zero-Clearance Wood Stove
2. 22ft of Duravent 6" ID Double Wall Class A chimney
3. Exterior un-insulated chase.
4. 17 ft vaulted ceilings in room where the fireplace is located.
5. Highest elevation of conditioned space is 23 ft higher from where the fireplace is. This room is pretty far away on the opposite side of the home.
I am debating on insulating, drywalling, installing a firestop, and bringing that 17 ft into the conditioned space of the home. This would still leave almost 8 ft of chimney in unconditioned space. I am really not sure if it is going to be worth the effort or if I should just get the outside air kit and be done with it.
Any insight into this issue would be appreciated.
See the picture below for a diagram of this setup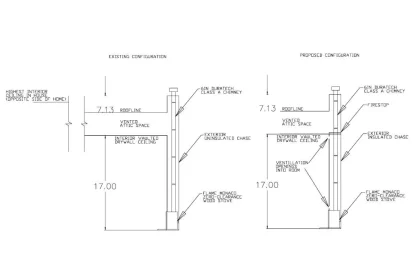 Last edited by a moderator: