My three year old and I potted up a dozen cucumbers today. They spent a few hours outside to start hardening, but I kept them out of the sun. It got to the mid eighties today and is supposed to be similar the next three days. The outside plants seem to enjoy it. The seedlings looked happy, too, but I know I often underestimate the Texas sun in the spring so thought I'd better not push them.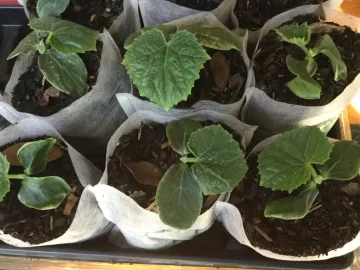 Walking back to check on the mandarin orange was an absolute delight this afternoon. Even before I heard the buzzing surrounding the tree, I could smell the fragrance of the flowers. Closer in, it was like standing next to a beehive, except it was numerous species rather than just one. I saw honeybees, bumblebees, sweat bees, and others I can't really name. There were also so many butterflies: numerous monarchs and red admirals, a couple tiger swallowtails, and one black swallowtail. It was a pollinators' paradise.
My husband and I measured the tree earlier this spring. It has about an eighteen foot diameter, and it's covered with blooms. I really can't capture a good shot of it, but here's an idea.