I've been noticing a lot of companies have even stopped taking orders because they can't fill them fast enough right now.
I had a bit of a shock this morning when I checked my garden. Something had eaten off a lot of beet greens and pulled up others out of the ground. Almost all my tomatoes had some part eaten, and one cucumber was just a stalk. There were what looked like paw prints in the asparagus and some damage there, but for the most part it looked okay. I go to my garden every morning to check on it, do whatever may be necessary, and just for a lift for my spirits. This morning was not so uplifting.
Our fencing is not completely secure, but it had seemed to be working. The eating pattern seemed that it could have been a deer, but the tracks looked like very large paw prints. It was kind of strange. My husband put mesh over the front gate where rabbits could have entered. If a deer is willing to jump into such a crowded space, I'm not sure we will be able to keep it out.
Here's what the garden looked like this morning. It's still growing, and a number of plants were undamaged.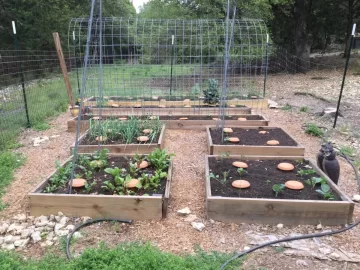 Here's a tomato that got partially eaten and the one cucumber that was damaged. Maybe the animal decided it didn't prefer that flavor since eleven more seemed unharmed.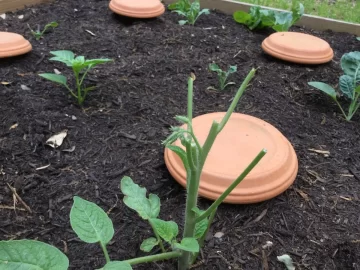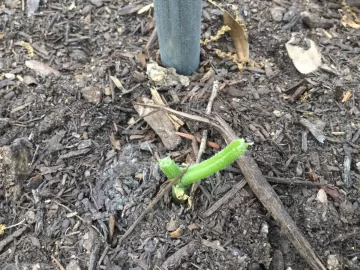 Because I was sad about my garden, my seven-year-old daughter walked around with me to find happy things. There are some flowers on one of my overwintered peppers (but the picture was blurry), and the blueberries and peaches are coming along nicely. We also got a touch of rain and more is in the forecast. I just don't want hail.