Is your "pipe" temp the surface of the stove pipe temperature, and the "out" temp the flue gas temperature? Also how are you measuring the cat temp?

You have a single wall stove pipe on this stove correct?
Sorry, meant to include those details:
1. "Pipe" is surface thermometer on single-wall pipe. Yes, you can do 30+ hours with single wall when the outdoor temp is 40F or below, BKVP is exercising an abundance of caution when he tells you double-wall is needed. Double wall is better for lower burning, no doubt, but single works well enough for reliable 24 hour burns in all weather, on this stove with a very straight shot of 15 feet.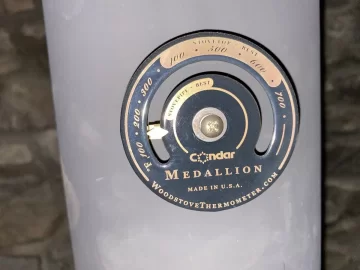 2. Cat temp is eyeballed off un-labeled BK gauge, knowing the inactive/active crossing is 500F, and then eyeballing the remaining increments against this thermometer: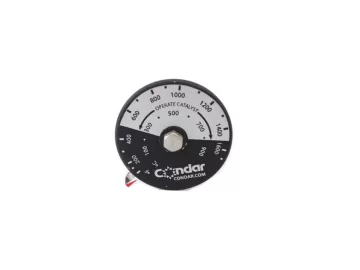 And yes, if it wasn't clear... this stove has about 5-6 feet of single wall followed by about 9-10 feet of blanket-wrapped smooth wall liner, somewhere near 15 feet total from memory, although I should really measure it before being too confident in those numbers. It may be as short as 13 feet, or as long as 16 feet, total.