Hi All,
I am about to install my just delivered Osburn 2700 Matrix insert! The insulated liner has also arrived, the chimney is cleaned and prepared(damper is out!). I have a pretty straight shot into the insert so everything is lining up well. The difficulty I am foreseeing is attaching the liner to the insert. I have very minimal vertical clearance (~1.5") between the stove and the lentil. So getting to the 3 screws/brackets on the stovetop to secure the liner might be exceedingly difficult. Maybe i get lucky and can get them as i push the stove back. I am in the HVAC industry so I have sheet metal experience and tools that will hopefully make this reach.
I did get the insert adapter with the liner but i also saw this system in the manual which looks like it could save me if i can't reach the screws.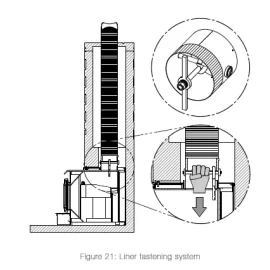 Unfortunately, i can't find this Liner Fastening system or any similar product anywhere! Can someone help me find this or explain how they successfully attached their liner in situations with low clearances?
Thanks trying to avoid that moment of frustration when i am oh so close to a full install! Hopefully, all this worry is for naught as i can get a clean install but i'd rather have a backup plan as i wrestle this thing into position.
Thanks
Last edited by a moderator: