So, while letting the dog out this morning, I noticed a spot on the roof that was not as frosted over as the rest of the roof on the shingles. Temps got down into the 20's last night. My curiosity took me into the attic, where I located frost on the underside of my roof, near the soffit. I attached a photo
Clearly warm air was making its way up into the attic (no rain recently and a new roof-3years ago). I suspect it traveled down to the lowest, coldest point, st the soffit intake, where it froze. Several nails were frozen over also.
I've never seen this before. Not saying it's never happened, I've just never noticed it. I suspect the attic door is the culprit. It's in the area of the frost, a few feet away, and doesn't have any insulation. We've been getting the house up to about 77 before going to bed. I'm wondering if that warm air is seeping in, finding the coldest point near the soffit, and freezing. I'm gonna get an attic door insulator today to see if that helps.
The only other thing that has changed is we recently switched our heat from oil to propane, oddly the tanks sit under the soffit in this area. But I doubt they produce anything that could cause this. They have all the required installation clearances.
The bathroom fan is vented through the roof, and insulated. It appears to not have any leaks. It's about five feet away but no moisture in its immediate area. I did replace the soffit vent in the area of the frost, cause it was looking a little rough.
Any thoughts??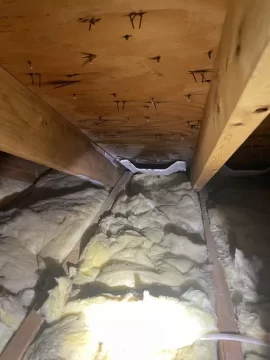 Last edited: