I'm writing in regards to an installation I've recently had done by a certified WETT technician - I live in an area where there are only two certified technicians in 500 kilometres and one started a fire in my wall and the other has just done what I perceive to be a very sloppy install. I was hoping you guys could offer some advice!!
We were having a Blaze King Princess installed in our living room, with the pipe running through the wall into an existing masonry chimney. The technician recommended a 6" rigid flue liner to help with drafting, but installing it was a bit of a tight squeeze and he had to resort to hitting it down into the chimney with a sledge hammer. Due to this, he was unable to manoeuvre the flue liner properly resulting in the hole in the liner not aligning with the tee properly (the horizontal pipe coming through the living room wall from the woodstove) - I'm sorry I don't have quite the expertise to explain this properly, please see the below diagrams, as well as the photo.
In the photo I'm holding a yellow highlighter, which you can see through one of the gaps surrounding the pipe.
The installer said we didn't need to worry about the gaps, when we finish the installation ourselves by filling the area with Roxul insulation and sealing the wall, the draft will make sure no smoke escapes into the wall. But shouldn't we also be concerned about heat? And what if there's a backdraft? I'm extremely paranoid as our last technician for this same stove was extremely negligent which led to a fire in the wall!
Please let me know what you think the best course of action would be moving forward - are these gaps something that can be filled with stove cement or should we just do as our technician told us?
Thank you so much for your help! The nightmare of this woodstove never seems to end

!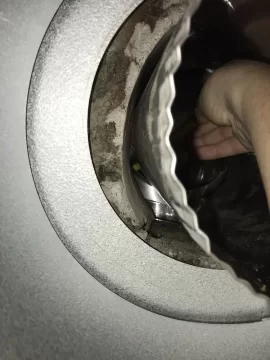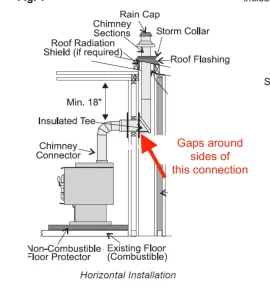 Last edited: