Is it a fireplace or an alcove. Call the lintel a mantle and shield it???? Vent free logs????
It's not a fireplace. Not anymore, anyway. It may have been the fireplace to the original 1730's structure that the present house is built atop, but now it's just serving as a foundation for a large cooking fireplace in the newer (1770's) kitchen above. It's basically an alcove, with a ceiling made of 6x8 timbers.
Here's a photo, looking up from where the stove will sit.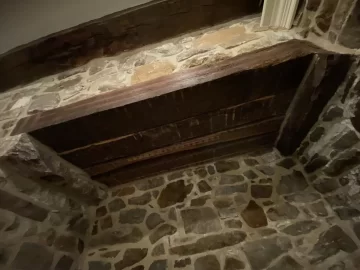 Also, most mantel spec's include a maximum depth near 12 inches, and this would be more like 33 inches deep.
But I may have found some options that fit under this 58" mantel limit. Unfortunately, they're $2k - $3k, versus the $500 - $700 of the units I was originally considering. Again, just a basement rec room, not our living room. So I wasn't aiming to get something very high-end here.