With such a large membership here at Hearth.com with many folks striving for self-sufficiency, I am curious if any of you have a food forest?
We've been vegetable gardeners for many years starting plants each Spring from seeds in our greenhouse. We continue growing throughout the growing season in our greenhouse and various garden beds in our backyard.
A few months back, while surfing gardening channels on YouTube, we came across
The Gardening Channel
with James Prigioni. James' videos chronicle the food forest he started in his New Jersey backyard about 8 years ago. Becoming more familiar with James' videos and reading more about food forests, we decided to start our own, and so we set off on this road in May 2021 with pretty much a blank slate in the field behind our house.
So far, we have planted 8 fruit trees and 12 berry bushes. We have also been working on smothering out the grass with cardboard and woodchips. We plan a dual physical barrier and electric fence, but it looks like that will have to wait until Spring 2022.
Before: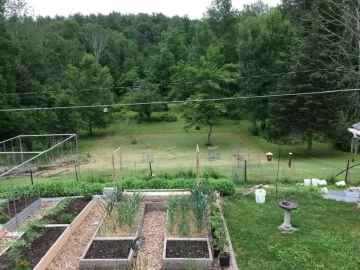 Now: