Hi everyone! So I've got all the components for my install and have a couple questions about clearances.
My stove is an HQ issue tent stove (I know it's not ideal but i figure if I follow the advice for un-certified stoves, it can be done safely). The stove is in a corner but also partially boxed in on a third side by a counter. The drawing was made in sketch up so the dimensions are very close to actual.
My questions are:
1. Anyone see an issue using a flattened out 55 gallon metal drum for heat shield? I've burned the paint off, cut them apart, and driven over them to flatten them.
2. Is there any reason the heat shield has to be one contiguous piece? The way I've got things worked out, barrel steel, metal roofing and sheet metal can't be found in big enough sizes to completely cover the wall space required.
3. I've read the heat shield fasteners should be on the edges of the shield but what about my shield that protects the counter? The counters front facing edge is about even with the middle of the stove (hard to describe, see picture). Even the fasteners in the corner seem a bit close to the stove. My concern is conduction through the fasteners into the wood.
4. I've found different advice as well as read the NFPA 211 sections concerning heat shield size. If anything combustible within 3' needs a shield, that makes the shield way huger than anything I've ever seen. None of the diagrams I've checked are even close to scale and distort the reality of this. You can see in my pic just how large that makes the shield. On google image searches, I've seen many antique stoves where the shielding is not as large as this (maybe a lot of people just do it wrong). Woodheat.org says to go 18" horizontal from each edge of the stove and 20" above the stove height. That seems more reasonable to me. Both sizes of heat shield I'm comparing here are shown in the drawing.
I think that's it for now. I left some details out to try and shorten the post. Let me know if my posting style is annoying and what I can do to make it easier to get help.
Thanks!
Dave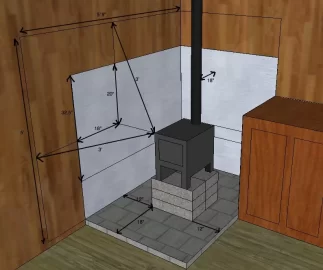 Last edited by a moderator: