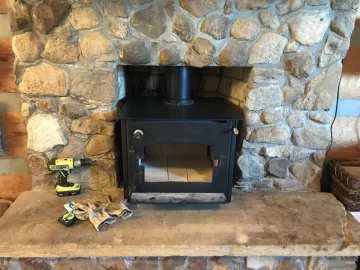 I installed my Kuma Alpine LE inert this past weekend. I did make a block off plate, however, please don't judge my shoddy workmanship. I plan on painting the sheet metal of the block off plate because you can see it when sitting on the floor or laying on the couch. For now, we are not going to install the surround, we kinda like the way it looks.
Install was fairly easy. I have a rigid SS insulated liner that comes down the chimney above the smoke shelf. Then it runs down the 2 bends of the smoke shelf with 2 rigid angled SS pieces and a straight rigid SS pipe. Then I had to cut a black stove pipe piece down to 9" to connect to the insert. All I need to do now is secure that 9" piece with screws, put the door on, and wait for a cool day to fire it up. (And yes, I know we do need a hearth pad, or something similar 16" from the glass. As the insert sits right now the glass is 12" from the edge of the hearth.)
I hope its all installed correctly. If I've done something incorrectly I would appreciate the criticism. I followed the instructions in the manual to the best of my ability.
Overall I'm happy with the choice we made based on aesthetics alone. If any of you remember, since January I've been hounding these forums trying to decide how I can make a freestanding stove work without extending the hearth. Then we thought about demolishing our current hearth and lowering it, and extending it. We went back and forth, and finally fell into reason with a insert. I appreciate the input and advice from this fantastic forum.