Hi guys-
Feels like its been forever since I sold the old antique and said goodbye to the VC... miss this place

Anyway Ive been busy... New contemporary house sadly only has an open fireplace, but it does have much more modern system in general including 2 zones of central air (1st and 2nd floor) and a Veissman condensing boiler w/ 4 zones of hot water baseboard for heat.
Which brings me to my questions - ones I expect this crowd could answer better than anywhere else.
So the Veismann, while efficient is running on propane . The first floor AC is on its last legs (vintage '93) and the great Commonwealth offers a lot of incentives to put in heat pumps. So you know where this is going... I got 2 proposals to replace our first floor SEER10 ducted 2.5ton AC with a central heat pump.
Vendor A proposes 19k before rebates to put in a Mitsu hyper heat light commercial (PUZ-HA36NHA5) - 3ton SEER 17/HPSF11
Vendor B proposes 9.8k before rebates to put in a Mitsu SUZ-KA30NA - 2.5ton SEER 18/HPSF13.4
First off - I think vendor A is gouging me on pricing, but putting that aside I have some questions on what options to go with.
Question 1 - Is hyper heat worth it?
I did some math with calculating the BTU delivered per dollar delivered over various heat ranges from my condensing boiler, the hyper heat and the standard heat pump. The thing is, while the hyper heat will heat well below our design temp of 8F, its COP drops off much steeper than the standard unit. Based on my numbers it looks like its probably far more cost effective to just buy the basic unit which can heat down to 14F, and switch to propane whenever the temp drops under 20F or so - which around here means basically just overnights in Jan/Feb.
Thoughts?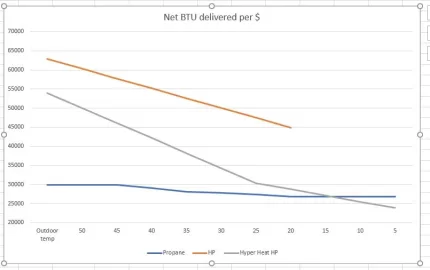 Notes:
my price of propane averages $2.90 a gallon and the boiler eff ranges 88-95%
my price of electricity is 23c/kWh all up
the Hyper heat option has a COP of 3.66@47F going down to 2.06@17F but it can heat to -5
the standard heat pump has a COP of 4.27@47F and 3.22@17F. It can only heat down to 14F
Our design temp around here is 8F afaik
Reverse engineering my annual propane usage and HDD, i calculate a design day heat load for the whole house of about 45-50k btu/hr. probably 25k for the first floor.
Question 2 - Has anyone done the "integrated controls" and had sucess?
MA will rebate $250/ton for heat pumps, but will do $1250 a ton if you install "integrated controls" (ie dual fuel thermostats) that automatically switch systems at the ideal outside temp. I love this idea in theory but it seems the only system you can use with the Mitsu and preserve all its modulating capabilities is their own
Kumo Cloud/Kumo Station
controller. Vendor A seemed happy to do whatever I wanted to pay for. Vendor B is strongly warning me off these - he says when his techs went to the Mitsu training course the instructor couldn't even get the system to connect reliably in the classroom and that it has all kinds of problems with wifi (which it requires to communicate with the room and outdoor sensors, apparently no wired option). Looking online I see lots of horror stories and abysmal reviews for the Kumo cloud app. Vendor B says that the cost will basically be a wash adding the Kumo vs the extra rebates and a lot of his customers that installed it for the rebates later called them back to take it out due to problems. He suggested Id be better off doing this old school, running the heat pump until christams and then firing up the boiler in Jan/feb, and then back to heat pump.
This is disappointing as I really liked the idea of setting something like this up and later adding Ecobee or Nest for our other heat zones and integrate the entire house.
---------------------
Other notes-
Q: Why am I just doing one zone?
A: The upstairs already has a SEER16 AC, and all hte registers are ceiling mounted up on catherdral ceilings. We struggle to keep the heat even up there as it is and probably wouldnt be good use of heat pump/forced air heat.
Q: With all this heat pump talk have you considered solar?
A: Yes!! 7.6kW of REC Alpha panels and enphase microinverters (at $2.90/watt before credits) are going up in Sep. This is litterally the max that will fit.
Last edited: