OMG, Did we get the wind! we got hit with some reports of 116mph gust and the whole thing just lasted soooo long. Went through the state of Iowa, reportedly started around Omaha, just west of the Missouri River. We have so much tree damage and haven't even started getting that cleaned up. The nearby town is just getting out from under massive downed trees, after 2-3 days. We still don't have power after 4 days. And by the way, that is why we put in the wood stove, LOL. Wrong season for a power outage. Running the tractor powered generator. I am powering my router and this computer with the generator, as we also power the freezer and fridge. Camping stove to make my morning coffee. Thank goodness that there has been good weather since. We have 2 grain bins blown away, old windmill in the field bent over to the grown. A 200 +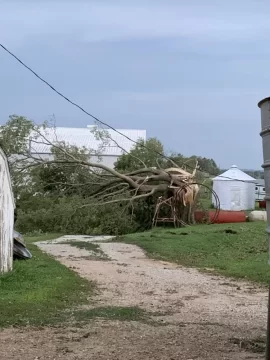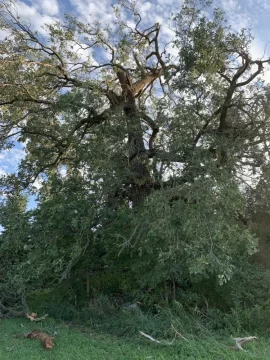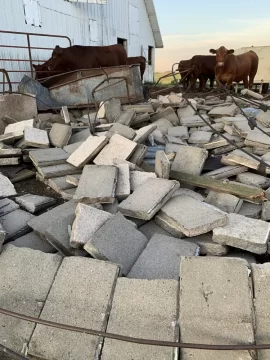 year old bur oak really took a hit, but still standing with about 25% of its limbs missing. 30-40 foot fur trees in the wind break tipped over, about every other one. Old cedars planted in the 30's cracked over about 1/2 way up the trunk. Machine shed roof, gone. 60 year old large hackberry cracked at the trunk about 8 feet from the ground and missed, by a fraction, the fuel tanks we have on the farm. Power tangled in other tree limbs. The rural coop electric company has contracted tree service to trim these away, and we got that service done yesterday. The winds blew our old block silo down too. The upside to that is that it missed the barn, now we don't have to pay to have it taken down, which was on the wish list for several years, and I have patio pavers now!
House INTACT!
We have a slightly tilted chimney that just went in this spring. It is a stainless steel insulated stack that connects through the roof and to a flex insulated liner. What do we need to do to find out if it is safe. That is the only thing that seems to be amiss with the house. All the trees missed the house!
Since this was such a large impacted area, what did you folks experience?
Last edited: