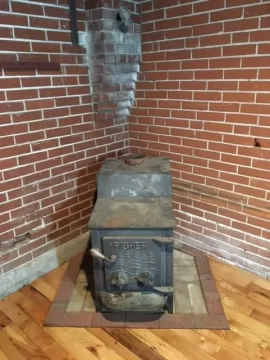 New guy here, and wood stove newb as well. Thanks for the invite!
I live in a 105 year old house in Illinois with a small detached garage. It's too small for a car (9'x18')--probably designed for a Ford Model A. So I'm converting the little garage into a workshop/man cave. I installed a hardwood floor over the concrete surface, with OSB underlayment. There's a brick chimney that extends halfway down the corner wall (see pic) with a port for a stove pipe.
I had planned to put a pot belly stove in the corner, and left an open space in the wood floor that I filled in with bricks. But then I found this Fisher Mama Bear for sale and decided to buy it instead of a pot belly stove. Problem is, the brick floor surface I had prepared for the pot belly stove doesn't fit the Mama Bear very well. I read through the "Installing and operating an old stove" thread (very helpful!) but still have a couple of questions:
1) Is 5" enough space between the brick wall and the corner of the Mama Bear? Or will the heat damage the brick wall? How much further, if any, should I move the Mama Bear out away from the brick wall?
2) How much more space will I need, if any, on the floor at the front of the stove? I have some old 1" thick pool table slate. Could I cut that in a semi-circle and lay it on the floor in front of the stove to insulate the floor? Or should I remove some of the flooring and lay a bit more brick? (The brick that the stove sits on is laying on the concrete slab.)
Many thanks for any input! Great site you have here.