Hello,
I have a sauna stove getting installed in an 8x6 shed and I'm responsible for buying the necessary parts. The details:
Harvia 20 Pro sauna stove - 2.5ft tall on 2 inch pavers
6" pipe - the stove is coming with an adapter from metric
Floor to cathedral ceiling is ~8'
Roof pitch 5/12
12 inches to wall on all side
My questions:
What length of stove and chimney pipe to buy? Does the chimney pipe come through the ceiling support box? By my calculations I have 5.5 ft from the top of the stove to the roof, so do I need 4ft of stove pipe and like 6ft chimney pipe? Does it come through the support box or can they only connect in the box?

EDIT: I think I can solve this by just buying a telescoping pipe. I'm still not sure on how tall the chimney pipe needs to be though.

I'd like the stove pipe to be single wall and the chimney to be double or triple. I've heard double walled all the way in a sauna can affect heat output. I guess I'll still go with double but curious.
Does the ceiling support box need some sort of non-combustible insulation around it or just a gap of some sort? I've seen it with and without insulation.
Attached is what I'm planning to buy. And for reasons I won't be able to run this by my installer beforehand.
Thank you!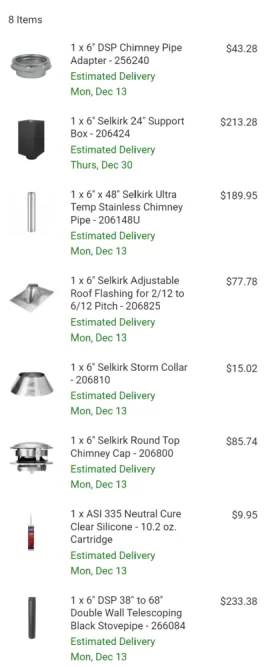 Last edited: