Hello All,
First time posting here, I was wondering if I could get some advice on a situation I'm dealing with, I'll try to be as concise as possible.
My family and I just moved into a new house 4 months ago located next to a wood burner. He has a wood stove that has been used all winter as well as into the spring as their primary source of heat. This would be no issue of course, but the problem is that the smoke is billowing laterally / downward from the chimney and into our home. We notice that we'll get very low key itchy / burning eyes and irritated throats. Our homes are 20ft apart and on equal ground. Our chimneys face each other and It's quite windy where we live with the wind consistently blowing into our house. Our home was assed for air leakage is quite tight, yet we notice an increase in TVOC levels (I have a monitor) when they burn wood. Usual levels are 0.3ish and can rise to 0.8 when they're burning. I spoke to our neighbor about what we're experiencing and he wasn't super helpful. He assured me that he's burning good wood so I'll have to take him at his word. So my real questions would be the following:
1.) What are some suggestions to remedy the situation? Could I advise this guy to extend the chimney / I'd be happy to pay for the work / modifications
2.) Is this an issue with his burning habits?
3.) is this actually an issue for our health? There are no zoning / by-laws where we live that can be enforced.
I'll attach a picture of the top of his chimney in case there's anything glaring about the appearance of it.
Thank you in advance!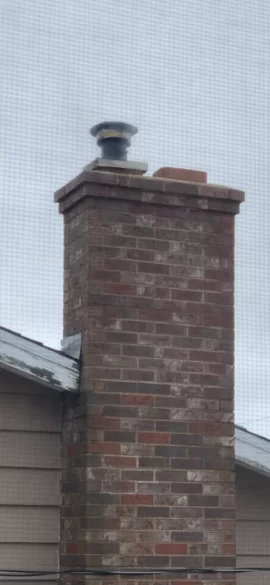 Last edited by a moderator: