Not that I'm a pellet stove expert, but I've had a few stoves including two Harman Pf100s. I'm familiar with how they work and confident I can fix them. I saw an ad on craigslist that said "Harman Stove". It was in unknown condition and the seller wanted it gone with an asking price of $200. We quickly got on the road and drove the 1.5 hours to check it out. I didn't know the model number yet, but for the money I couldn't pass it up, regardless of what it was. We arrived, the owner had a tractor and loaded it into the truck. When I got it home, I started tearing into it, here are a few quick shots of the exterior:
The stove looked rough from the outside, the inside was worse. I've never seen something so bad. I had to pry the latch up to open this housing:
Check out the cleanout under the burn pot:
The sawdust had solidified, I had to chisel it out with a pry bar and hammer.
I spent about 1.5 with a wirebrush and got the first round done. Ordered a feed motor, igniter and paint. Will update the thread as parts arrive.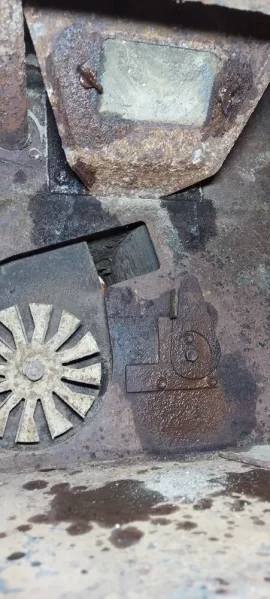 Last edited: