Yes, it's certainly thrilling to see all the posts with miles and miles of perfectly stacked wood but for the sake of variety, let's post some pics of the other end of the spectrum, shall we? Here's to all the folks out there (I can't be the only one) who haven't quite gotten their house in order yet!

Here are a couple Red Oak stacks a few years old, that are going across the slope, not up and down, and only have four concrete block under each pallet. The second mistake is that the 2x4s are running parallel with the stacks, not perpendicular as they should be (which also gives you a full 48" to stack three 16" split rows. The pallets sagged in the center..I've picked up most of that stack crash which layed there a couple months, and is now under cover, drying out again. My faithful helper showed me what he thought of this mess by lifting a leg.

Here's some White Oak rounds I've been "curing" for a couple of years. The sapwood should scrape right off with a putty knife, and it will take me forever to split 'em since they will smell soooo good with vanilla-y sweetness, like 10-year bourbon.
I may try sauteeing those mushrooms..
At least the stack is running up and down the slope..but the 2x4s are still going the wrong way.
And some Black Cherry that will be equally as easy to knock the sapwood off of. In the background, some five-year BL rounds, but that stuff will hold up.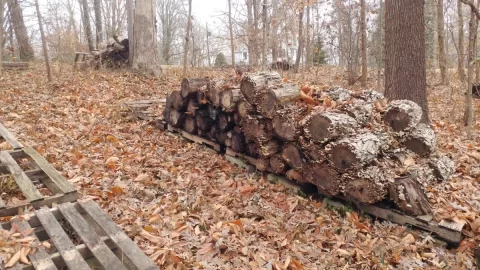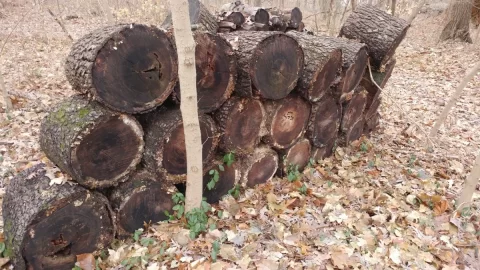 This is Sugar Maple, about two years bucked. I'd better get that split, I don't think it holds up as well as White Oak or Cheery heartworm, and it's got a few shrooms. In back of that, left, a white Oak stack with the mats blown off by recent heavy winds. Pignut to the right, with BL in the background, splits right, rounds to the left. Splits covered but is about the only stuff I've got that doesn't need to be.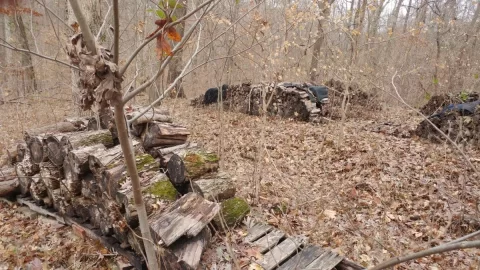 This is Pignut Hickory...gonna grab some of that soon and see how it burns.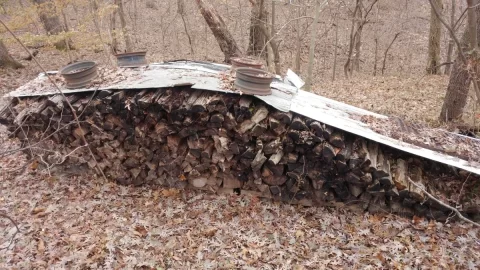 And my five-year Hedge stash. I wonder if it's dry..I'd like to try some one day.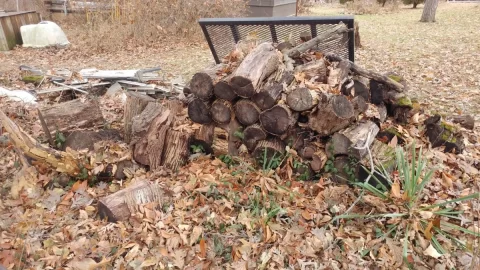 e
Good grief, I need to slap together a few wood sheds, ASAP!

Well, it'll be a tall order for any of you guys to match the scope of this debacle but don't be shy, you're welcome to try!

Or those of you with perfect stacks of pristine wood, feel free to admonish and roundly criticize me for my slovenly approach to stocking my stash!


Last edited: