Hey guys, appreciate the input here. I currently have a bunch of firewood racks scattered on my property that hold a bit over 1/3 of a cord. I love them - theyre easy and cheap to build, and dry firewood out pretty quickly since theyre only a single row of splits. However, Even with 5 on the property, I'm only able to store about 1.5 cords... Attached some photos of what they look like.
I want to utilize my space a bit more though. I figure I could build a large firewood shed (attached some example photos of what I'm thinking) and if I made it something like what
this link
shows, it would be 7' tall, 12' wide, and around 5' thick. I could easily store 3 cords in this!
Here are my concerns though. Can you guys let me know if I'm being crazy, or realistic? I dont want to spend the time and money on this only to regret it...
-Will the wood take significantly longer to dry? Being stacked more than one split length thick worries me. My property is heavily shaded. And could the wood end up just rotting instead? Currently my racks brought some oak splits from mid 30%s down to 22% in 7 months...
-Will this invite major pests in? I have snakes, mice, and other critters on the property. My racks already get ants from time to time so I worry about inviting more pests in.
-When dealing with a rack like this, how do you stack it in such a way to be able to access dry wood? I'm afraid I'd stack my "oldest" wood in the back first, and then be unable to get to it. I'm typically splitting and stacking firewood about 1/3 cord at a time. I don't purchase large quantities - I just have lots of dead trees that I get to when I can. With my current racks I can easily choose which rick I want to pull from first, and plan accordingly. If I have a storage shed I'm not sure how I'd go about it
Appreciate your input guys. Means a lot.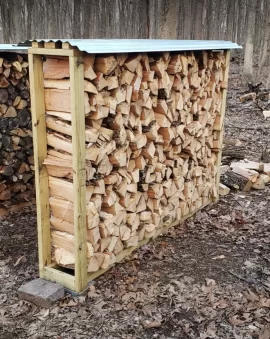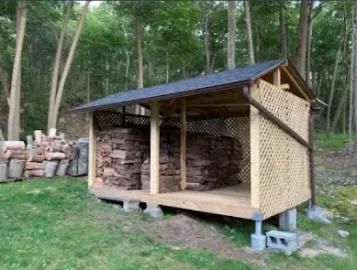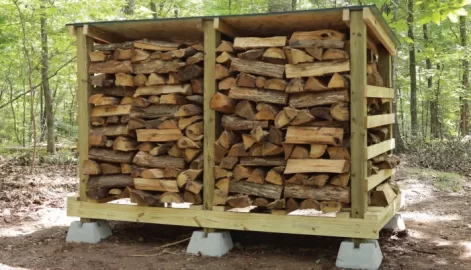 Last edited: