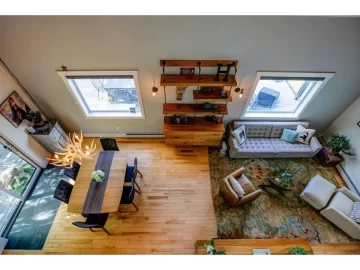 Hello,
I am looking for a woodstove for a VT home. 1650 sq feet lofted. I have a propane furnace so this is supplemental and ambiance.
I have a narrow hearth area that is roughly 45x45 but the stove can be installed parallel with a front feeding stove open to the room. I was all set to get a Jotul 118 CB (best price $1850) when I saw the VT point of sale program for $750 if I install a stove with emissions less than 2.0 grams per hour, and an "Actual Efficiency" rating from the EPA of 70% or greater. That makes the Woodstock Soapstone Survival stove real competitor at only $700 and no sales tax in NH.
I was planning to locate the stove in the corner by the dining table in this photo. My wife does not want to demo the piece of furniture in the center of the room. I am open to the forums input.
Last edited by a moderator: