Ok, so I purchased a Vogelzang VG3200-P from Menards and installed it myself. Not my first wood stove install, not that that means much, just saying. I've included a pic of the stove pipe from stove to chimney for reference. I ran 15 feet of stainless double wall chimney thru the basement ceiling, thru a closet on the main floor, thru that ceiling, and out the roof. just over 4 feet of chimney sticking thru the roof, meets or exceeds the 3-2-10 rule. Let me tell you, this chimney has excellent draft. Way better than my previous install at my old house. When I lit the fire there was zero smoke came out of the stove door.
Fired up my first fire in it since moving it inside (lit 2 fires in it when it was still on the utility trailer to burn off the paint smell before moving it inside) and find it nearly impossible to control the fire. I lit a small fire for starters but even with both the primary and secondary air controls totally closed the fire just burnt about as hot as it wanted to (the stove top was almost 700 deg in the center). I even tried stuffing a towel in the hole in the back where you would connect an Outside Air Kit, and still no effect on the fire. What gives?
I called US Stove company ( the manufacturer) and the lady there told me that with these new EPA 2020 stoves you have to caulk the stove pipe or fresh air will travel down the pipe and into the firebox causing my problem. Now, I'm no genius, but that sounds like she is just crazy. Can fresh air travel down the stove pipe, which again has excellent draft pulling air UP, especially while there is a hot fire in the firebox?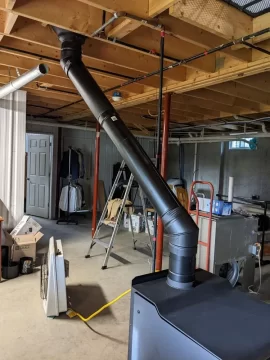 Last edited: