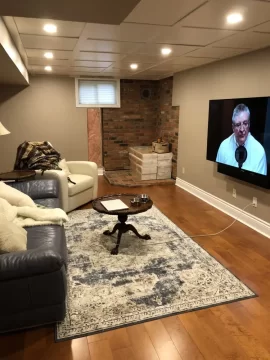 hi, I'm brand new here but I've read a lot of reviews and advice so I thought I'd ask for educated opinions here. Thanks in advance!
I'm in southern Ontario. We have small bungalow (920 sq feet main floor and 920 sq feet finished basement. We want a stove in our basement which would be only a few feet from out main tv area. I've attached a pic.
The house is very efficient as it is. New efficient furnace and good insulation.
We just love wood heat and the ambiance.
I'm just worried to get burned out sitting so close to stove.
I've looked at:
Jøtul f400 and 500
PE vista
Napoleon s9, 1450
Hearthstone (forget model)
Found a great deal on a f500 but backed out because I thought it was too much stove.
I also though soapstone might be a good way to go because of the softer heat?
I know a lot of people say you can always make a smaller fire in a big stove but you can't make a small stove Bigger.... Or something to that affect.
I'm also trying do do this on a budget so I'm looking for a used stove. Lots out there but would also like to know if there are some major disadvantages to buy used (aside from the obvious condition of the stove ie cracks, gaskets, baffles.)
How old is too old when buying used?
Thank you very much!