Feel like letting off some steam? Want to tell someone they are crazy or that they are going to burn down there house or endanger their family?
LET IT ALL OUT, ITS ENCOURAGED!
Here is the setup, description first, pics to come.
Vogelzang boxwood stove. Looks like the one in this pic but its the older one that has more air control and no holes in the doors. Its the one with the removable top.
Installed in mobile home--- Store told them its for a shop or garage, not a house or trailer, they said "hold my beer and watch me put this thing in"...
Stove pipe is run vertical from stove, up 2 feet-- elbow then 4 feet thru the wall, out an old window opening, with no doublewall or thimble. Outside is another elbow and from that, 4 feet vertical with a small (too small) chimney cap. Pipe is supported with metal coat hangers outside.
At least it has a floor protector! The stove is 18 inches from the "very combustible paneling" which is subject to say the least.
Want to see the actual "install"? Reply with "yes id like to see this mess...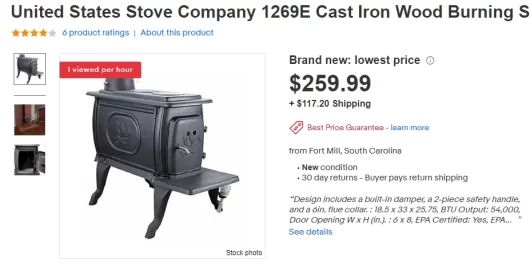 Last edited by a moderator: