Greetings:
I apologize if this has been covered elsewhere in these forums--seems like it would have been--but multiple searches yield no directly applicable results.
DuraVent says that:
"In cold climates, chimneys mounted on an outside wall should be enclosed in a chase. Exterior chases reduce condensation and creosote formation, and enhance draft. Include an access door by the Tee Cap for chimney cleaning."
I am in a cold climate, in southern Maine. We are planning to install a Jotul F3CB wood stove as a part-time space heater in a poorly insulated sun porch that juts off of our home. Stove will be back-vented through the wall to a DuraVent (likely DuraTech) chimney running 23' 5" — terminating 6' 9" above the second-story roof: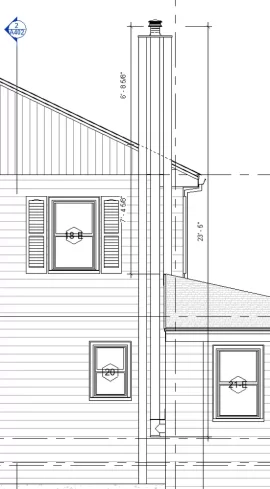 We plan to burn only well-seasoned high-quality firewood and to regularly clean the chimney. Given that and the length of the run:
Do I really need an exterior chase?
(The Fire Marshal will have the final say, of course, but I'm interested in what y'all have to say about it in the event that they leave it up to us).
Thank you!
Stokes