We just made it to 60 today. The low for tonight as of now is 35, but we are usually a few degrees colder where we are. All the plants are back inside right now.
It was too windy to work on the greenhouse today. It is ready to put in the front wall and last two side panels. We have commitments tomorrow morning and all-day Friday. It is supposed to rain on Saturday. So, it looks like the next day we can work on the GH is Sunday.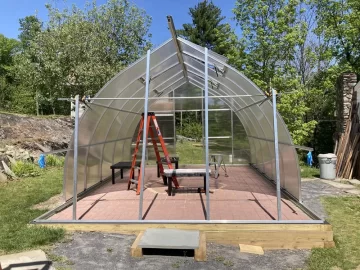 We really need to get some planting done after this frost/freeze tonight.
Too many chores; too little hours.