Seems like trying to get the humidity out of an unairsealed house would be darn near impossible. It seems like even a little sealing would make the job much easier.

Of course, there is 1 way of lowering relative humidity in the summer that most people don't think of. Light the woodstove!
5 kids and a dog that needs to monitor the neighborhood all the time. And one of us is home working or watching kids all the time. It's kinda a losing battle. I've made some good improvements. Dehumidifier only needs dumped once a week but it was a hot summer. We Are entering that really humid and warm season where ac just runs a less so this will be a test. Humidity indoors isn't terrible. Here is graph taken in a bedroom within 3 of the master bath door 40" off the floor.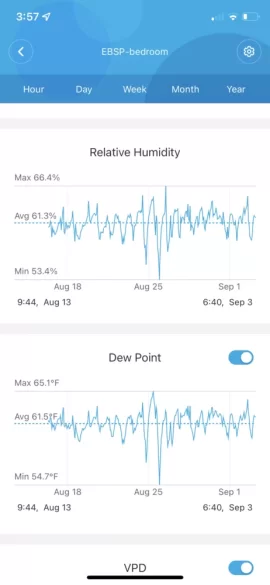 woodstoves here just suck in 77%RH air! December or august. Think about this, when the rest of you are putting your kettle on your stove because your house is too dry, I'm down here in the south running a dehumidifier just to dry out the wet air the stove sucks into house all winter. But at least it gives up 1000 btu s per pint! I knew it was humid here and after 11 years and looking up data I know just how humid it is.