I had this place build in '96. I have a 1/2 acre of lawn in the middle of 2 acres of mostly oaks, with some maples, birches & pines. Most of the year I use a blower to blow out the garage and to dust off the tractor, sidewalk and driveway after mowing the lawn, but leaf season is a BIG chore for us.
I have a '96 vintage Black & Decker electric rated at 195 mph / 480 cfm. It works well, has enough power to blow wet mulch out of the flower beds and move 3/4" gravel, but fighting 50-125' of power cord frustrates us BAD. She likes it (easy to use) but we're sick of fighting with the power cords.
I inherited an Echo PB-1000 with owners manual from my GF's mother. It's roughly a '95 vintage unit of decent quality with a 22 cc motor but I can not find any info on mph or cfm ratings for it for comparison purposes. I cleaned the stale dry sludge out of the fuel tank and carb, installed a new fuel system rebuild kit (fuel cap, fuel filter, fuel lines, primer bulb, carb cleaning + rebuild kit, spark plug and cleaned the muffler / spark arrestor. I got it to fire, warm up, tuned / tweaked and running nicely on bottled pre-mix....but it seems very lethargic in overall power compared to the old electric.
I have a Craftsman Pro / Agri-Fab (205 cc / 9.0 torque) leaf sucker / mulcher wagon that I pull behind the tractor to clean up the lawn, but I am wanting a more powerful handheld to do around the house and perimeter and don't feel the need to go to a backpack unit.
Ryobi seems to have good reviews on their 25 cc "jet fan" unit which is rated for 160mph / 520 cfm. Those specs "blow away" what Stihl and Husky are advertising for their best handhelds, which are 2x the price of the Ryobi. My work just bought a decent Husky gas handheld. It seemed lethargic to me. I can beer p!ss better than it blows leaves and grass clippings.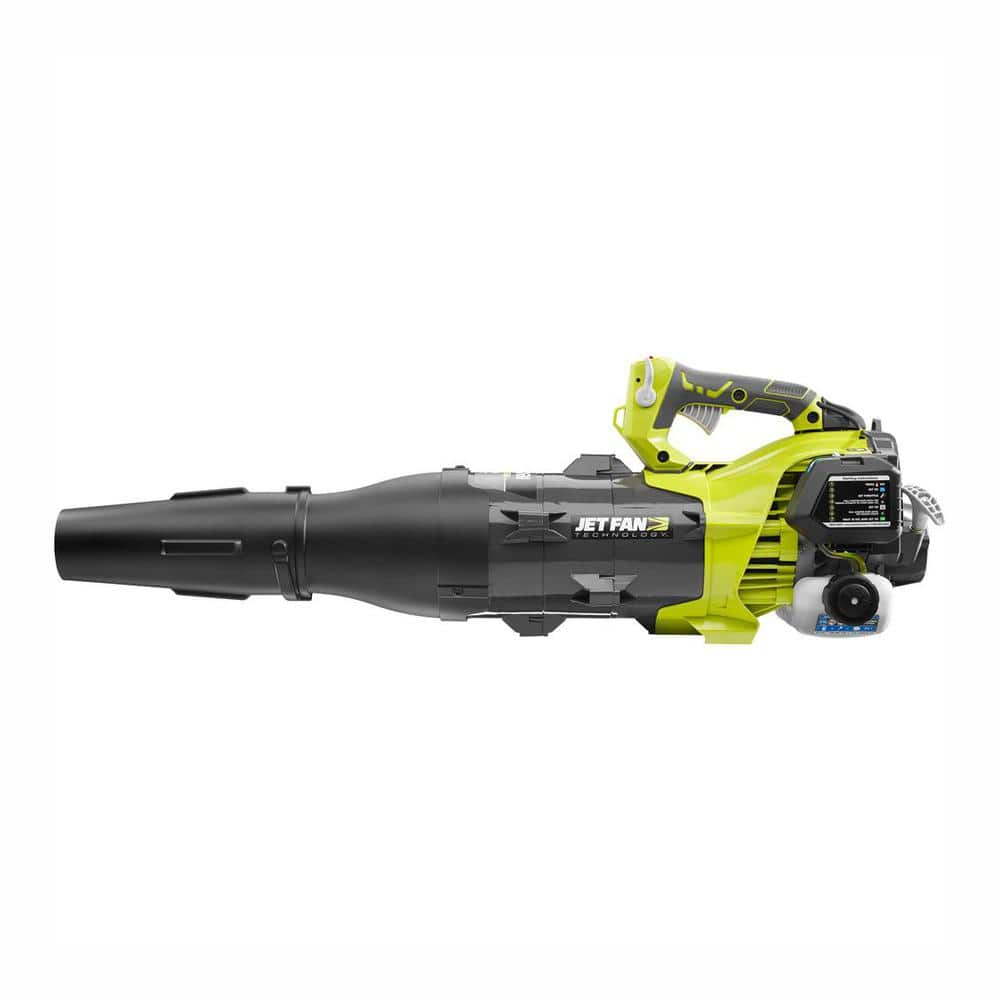 The RYOBI 2 Cycle Jet Fan Blower is the most powerful gas handheld blower. Period. Producing 520 CFM at 160 MPH, this blower delivers backpack performance in a compact, handheld size. This blower features
Yeah, we're comparing "sh1t" to gold, but are the mph & cfm rating reliable enough to use?
The Ryobi has a rear suction, it sucks air across the engine and exhaust and blows it our the front. Everybody else sucks from one side and blows exhaust from somewhere, so as you swap hands while cleaning leaves you are constantly getting your pants sucked into the blower intake or having hot exhaust blown against your legs. Ryobi seems to have made an 18v, 40v and 25 gas unit that eliminates these problems.....but is is worth a chit for a buck 30.....?.....