So I got tired of spending all day fixing funny angles and uneven teeth with my Granberg, and got myself an Oregon 520 grinder.
So far I've sharpened one old rocked out stumping chain three times (really ruined it the second time too), and learned some good stuff about what dumb stuff not to do with the grinder.
This is part review, part request for advice, and part educational materials for other new guys, I guess!
Things I don't like so far:
The included light sucks (fixed).
The chain clamp is really dicey at clamping .050 chain (I haven't tried any .043 yet but I have to imagine it's worse). I've cammed it over so hard that I screwed up my grind angle and still not got a good bite. I also trashed a chain when it slid forward after I thought it was clamped. (Will definitely need to modify this, but it sorta works for now if you're careful).
Even when it gets a good bite, the chain clamp allows the tooth being ground to rock away from the grinding wheel, requiring the operator to hold the tooth with a screwdriver to keep it flat during grinding. That's not too hard to do, but it seems pretty damn cheesy for a $300 tool.
There is enough slop in the frame that you can get a serious difference in cut depth on two teeth with the same depth stop setting. I am getting much better at this (light touch!), but the instinct is to press down to grind...
Things I do like: Everything else! It's fast and... well, in theory anyway, consistent once you get it set up for the chain you're grinding.
I did need to break out the soldering iron because the brightest light bulb I could find at home depot that would actually fit in there had some weird base that I've never heard of before (a threaded one smaller than candleabra). It was worth it though, that sucker is bright!
So wish me luck, I am moving on from my stumping chain (RIP) to actual sharp chains.
What do y'all think of your grinders? Any tips?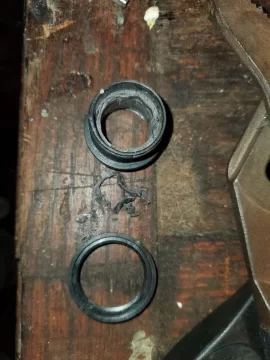 Drilled out old bulb holder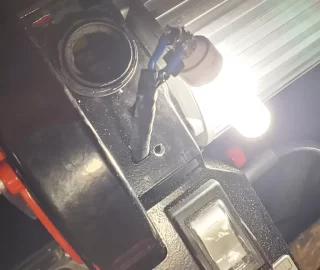 Reinstalled upside down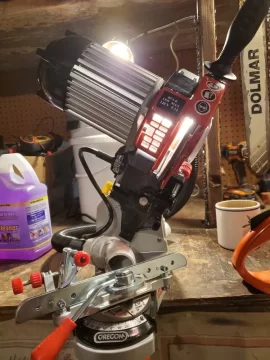 IT'S BRIGHT