Hi all, I wanted to introduce myself and my new Quadra-Fire Voyageur Grand wood burning insert. This site was a wealth of knowledge when I was researching what to buy, and so I thought I would give back a little by sharing my experiences.
My family moved into our house about 5 years ago, and there was an existing masonry fireplace. I had very young kids at the time, and during the home inspection they recommended some work to the fireplace so I never bothered to do anything with it. Over the years, I cut down a few trees in my yard and had stacked a good amount of oak, maple, and ash. This year I finally decided to do something about the fireplace, and decided that a wood burning insert was the way to go. After much deliberation, internet research, and checking all of the shops in my area and getting quotes, we decided on the Voyageur Grand by Quadra-Fire. The main reason was aesthetics, it has the flat front and is visually very nice looking. It also meant that we would not need to extend our hearth. We did however need to remove an old wooden surround that the original homeowner custom built. That led to my wife hating the old brick, which led to re-facing with stone and me building a new mantle. Also, what they don't like to tell you, and I couldn't find photos of anywhere online, is that the blowers have an external cord that has to be plugged in. So I also added an outlet close to the side of the fireplace, and left a small gap at the bottom of the stone to hide the cord.
In the end, it turned out beautiful. We are extremely pleased with the appearance and function of the stove.
My house is about 2300 sq ft, basically a big cube shape. The stove will easily maintain temperature when it is in the 20s (F) and does pretty well below that as well. Luckily we have had a really mild winter this year, so I have not been going through wood too quickly. I have an electric heat pump that is terrible at keeping up in the cold, and the wood heat supplementing that heat pump is saving us tons on our electric bill.
I can build up a nice fire around 8:00 pm and in the morning there will be a nice glowing bed of coals to easily re-light for the next day. The glass does seem to get dirty, and definitely more so when using wood that is not fully dry. Once it gets nice and hot, the glass mostly clears, except for the extreme edges and along one spot on the bottom that sits directly above the inside air feed. The blowers are a bit noisy, but it has variable speed and you can also manually turn it off, but that kind of defeats the purpose as it doesn't heat the house as well.
Sorry for the long story, basically we love it. Here are some photos:
This is what it originally looked like (don't mind my strange and crazy kids…)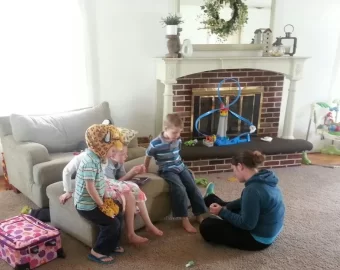 In process of refacing. We used Airstone from Lowe's, it was really easy to use. Basically just glue and stick.I also had to extend the height so that the mantle would meet the minimum clearance height. I used a non-combustible ceramic board for that.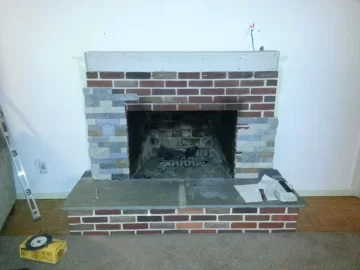 Almost there, with new mantle. I used 1x12s for the top and bottom and a 1x6 for the front to make a box section. There are two electrical outlets installed on the top surface.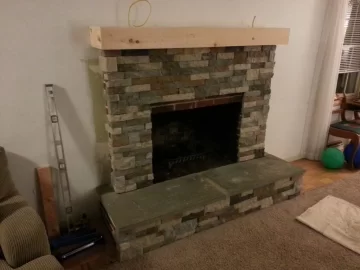 I mitered all of the edges and distressed, then added a dark stain to make it look like a big solid chunk of wood. It came out really well.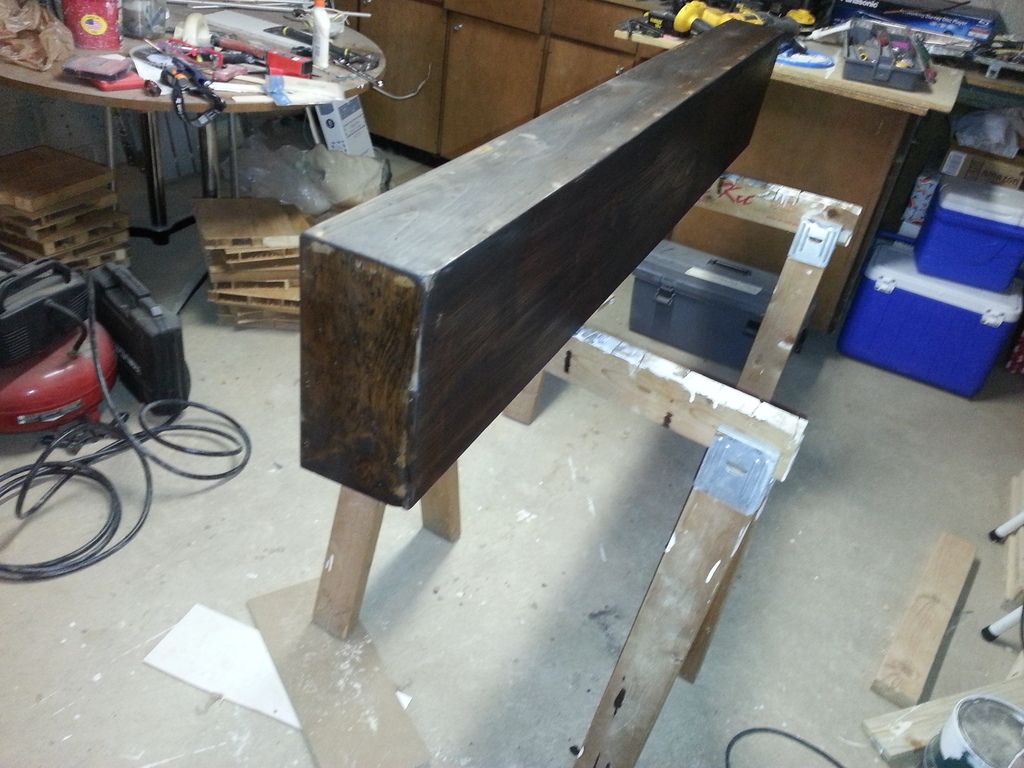 Here it is with the insert in place.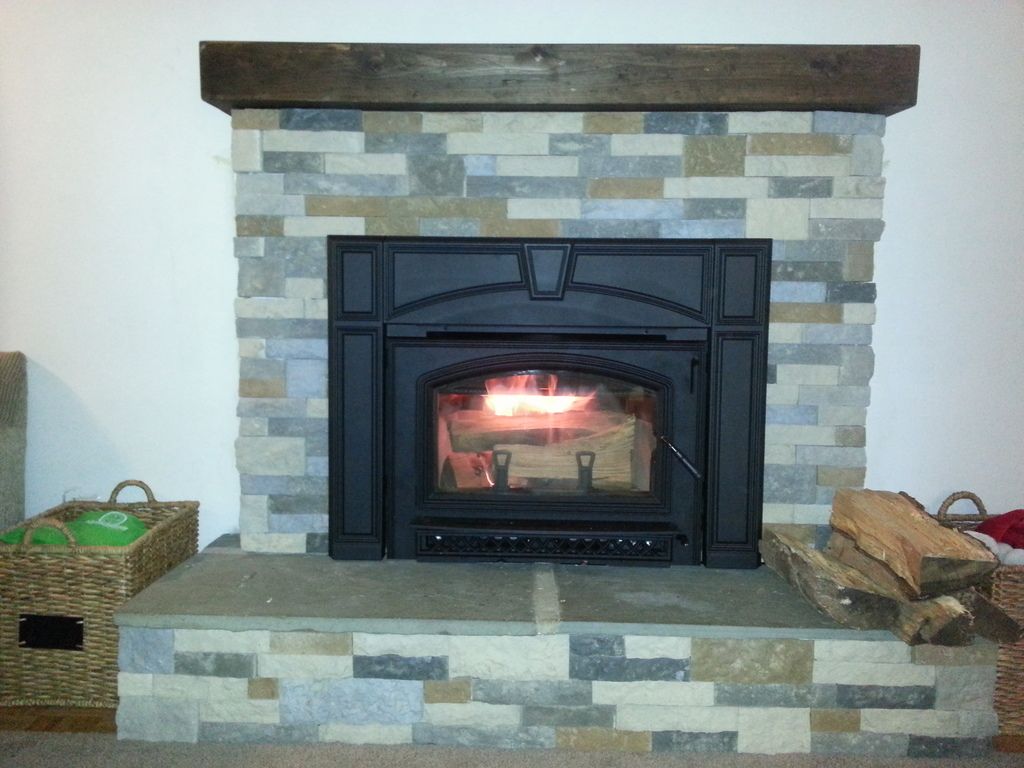 And with my wife's finishing touches (for the holidays). It is really a wonderful centerpiece to the room. You can see the new outlet and power cord for the blower on the right side.