I'm going a little mental trying to pick a wood stove! There are a lot of good ones out there, as I have learned from this forum, but I haven't found the one that quite fits the bill.
Quadrafire Explorer 3 - This is my top choice because of the simple but durable inner workings, top loading and cook-top. Plus it looks cool. What stops me is...it might be too big. My house is tolerably well-insulated cape cod circa 1985 with 6 inch walls in SE Pennsylvania. Downstairs is about 1,300 sq ft. Eight foot ceilings and open floor plan mostly. Upstairs maybe 700. This is just supplemental heat for us when we feel like it or when the power goes out. When it does, we like to cook.
Question, I know I've read people here that said "if it is too hot just build smaller fires or tamp it down" etc. But won't that make it burn dirtier, blacken the window, creosote up the chimney and just not look as cool as a smaller, roaring stove? I tend to like the "go big" advice, but I'm thinking that may be wrong now. I want that pretty secondary combustion, man! And I'd like the glass to be clean most of the time.
Others in the running:
Lopi Endeavor (haven't adjusted to those boxy steel stoves but it seems very impressive)
Quad Explorer 2 (but no top load, no cook top , not as good looking)
Jotul F50 TL Rangeley - might be too big of a depth dimension for the spot, but really cool! And BBQ!
For interest, I'm replacing a 1985 Consolidated Dutchwest Federal Airtight in very good condition (offers welcome!). Picture of the setup attached. Oh, and do modern stoves need for a better draft require a stove liner inside my older terra-cotta liner in my brick chimney? I've been told that by a salesman.
Thanks, I've beeen out here lurking for weeks and find your comments very helpful.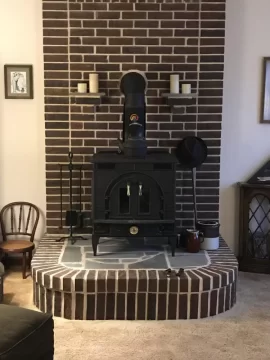 Last edited: