HI all,
We just moved in to our new house, and we're ready to convert our zero clearance wood burning fireplace insert to a nice radiant soapstone wood stove.
I'd really like to avoid removing the insert, because from what I can find online, that's a HUGE project that could involve ripping apart the walls, sometimes removing studs, sometimes cutting through the exterior siding, etc...
Here are some pics of our setup:
Front: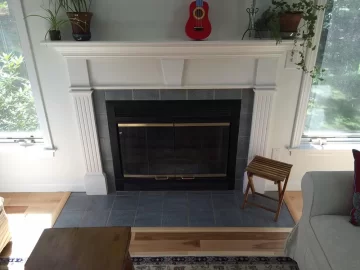 Side: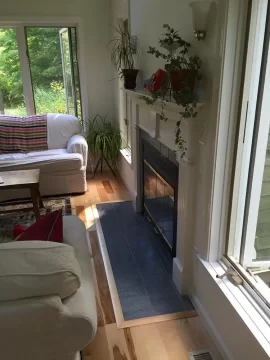 Model of Prefab Fireplace: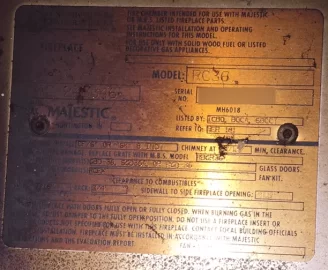 Here's my dream scenario. Tell me if I'm truly dreaming, or if something like this is actually possible:
1. Remove the glass doors from the fireplace.
2. Drop a class A stainless flex chimney liner down the existing 7 inch B-Vent chimney.
3. Cover the fireplace with a heat shield of some kind (cement board, sheet metal, tin cieling tiles?).
4. Cut a hole in the heat shield, and run the pipe from the back of the stove to a bend going up to connect with the new chimney liner.
5. Put down a heat shield on the floor.
6. Place the wood stove in front.
7. Enjoy warmth on cold winter nights.
Illustration of concept: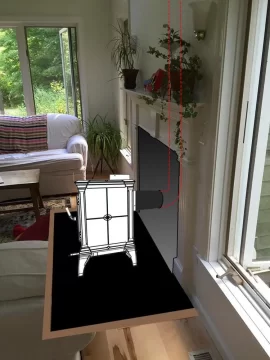 Here are a few questions about this scenario:
1. Are you going to tell me I need to remove the fireplace? Please don't tell me I need to remove the fireplace.
2. Do you think I need to remove the mantle from the wall, or should I put a heat shield over it?
Info that might be helpful:
I want the stove as close to the wall as possible to reduce the foot print it occupies.
I'm thinking of the Woodstock Progress Hybrid, which says you can reduce the rear clearance to 7 inches if you add a heat shield accessory directly on the back of the stove.
The existing chimney goes up a wood chase built on the side of the house.
Thanks for your help!
Last edited: