My daughter has decided that she wants a gas insert for her fireplace. Her biggest "want" is the biggest viewing area and because she has a very low hearth that's maybe 2" above the floor, we're thinking about elevating the insert. I realize that however you raise the insert, the material should be non-combustible. The opening she has is 32"W x 25-1/2"H X 23-1/2" deep. The fireplace is a fieldstone type and the mantel is a slab... looks like bluestone and its about 2 feet higher than the top of the opening.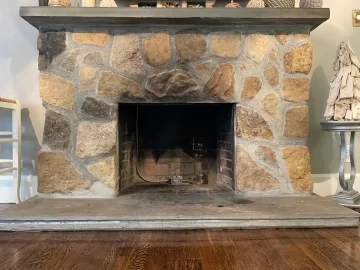 For those who have raised an insert, what kinds of brick or stone have you used? Anything really special? If she goes with a 430 DeLuxe, its 19-1/2"H x 29-1/2"W x 15"D so I was thinking of using 2-1/2" thick fire bricks to raise the insert. Never have done this so just curious if these are simply places loose on the hearth or do they have to be cemented in place? I have a Mendota FV44i and I know the whole unit just slides in and out... the weight of it keeps it parked tight against the fireplace face.
As part of the install, she'll have to order a custom 4-sided front steel face plate. We understand that you can order them with a inner/outer return, and thought maybe a 1/2" or 3/4" outer return might cosmetically help hide the unevenness of the fieldstone and mortar with its shadow? And has anyone ever put some kind of non-flammable fiberglass or foam behind a faceplate with a return? This is what she's hoping it'll look like all done.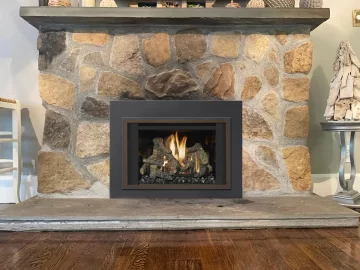 Whats somewhat confusing is that very few of these companies give you dimensions on the trim stuff like the rubbed bronze frame shown in the above picture. They tell you that the Glass Viewing Area: Ceramic Glass, 23″ W x 16″ H, 368 Sq. In total but don't tell you if the glass is the exact inside dimension of the frame or its the grey section behind it. And unfortunately the local dealer doesn't have this model on display, they only show the larger units.
Thanks in advance for any advice, tips, and opinions.-Mike