Carried over from another thread, in which some were trying to figure out room for wood storage and processing on smaller lots.
I have all of mine presently condensed down to less than 1/8th acre (really, more like 1/10th acre), for 16 cords CSS'd, plus processing and tractor maneuvering room, plus another 20'ish cords in logs, with a 15' wide thru-path along one end of the area for truck and trailer, and a 20' wide exit out the far end for hauling wagons of wood up to the house or logs in from neighboring properties.
Sorry in advance for the crude sketch, but it's a busy week, and I didn't want to take more than a few minutes to do this. It was measured in "paces", with my stride being almost exactly 1 yard = 3 feet, so assume
grid scale is 1 yard
. The boxes labeled "4 cords" are portable sheds, 6' x 16' footprint, about 7.5' interior height at the soffets. The splitter (not shown) gets moved around to wherever I'm stacking. The sheds are accessible from both sides, 2 rows deep from each side, which is why I have enough room on the ends of the row to swing a tractor + trailer around from the "front" aisle to the "rear" aisle. The circles with + in the middle are large/mature trees, which provide a half-decent shade canopy when I'm splitting in summer.
My processing occurs in the space between the 15' log piles and the sheds, and works like this:
Park splitter in front of shed into which I'll be stacking
Roll log off pile (these piles are 15' x 10' x 6' high)
Buck log to 18" lengths
Roll rounds into bucket of front-end loader, move to splitter, park with bucket at hip height next to splitter
Swing rounds out of loader bucket and onto splitter beam
Split, and let splits accumulate in log catcher on side of splitter facing shed
When catcher is full, unload it into the shed
Repeat, ad nauseum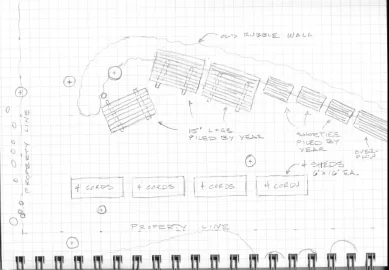 Feel free to comment on my layout (although it won't likely change after so many years), or to show your own layout to help others. If you're just getting your own figured out, post any questions you may have.